<div style="max-width:854px"><div style="position:relative;height:0;padding-bottom:56.25%"><iframe src="https://embed.ted.com/talks/jim_hudspeth_the_beautiful_mysterious_science_of_how_you_hear" width="854″ height="480″ style="position:absolute;left:0;top:0;width:100%;height:100%" frameborder="0″ scrolling="no" allowfullscreen></iframe></div></div>
OAKRIDGE CONSTRUCTION UPDATE
Due to on-going construction at the mall, please allow more time for travel and parking before your appointment.
Please note: the Elevator is currently under maintenance. To reach the third floor, please take the escalators or drive to the roof top parking via the Cambie and W. 43rd Ave entrance.
The only entrances currently open are at Cambie and W. 43rd Ave and on W. 45th Ave (roof top access).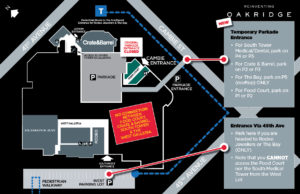 For the latest updates, please visit: https://www.oakridgecentre.com/blog/category/reinventing-oakridge/