OAKRIDGE CONSTRUCTION UPDATE
Due to on-going construction at the mall, please allow more time for travel and parking before your appointment. Reminder that construction noises continue in and around Oakridge and the clinic.
Please note: the Escalator from the Ground Floor to Second Floor will be removed. To reach the third floor, please take the stairs, the elevator or drive to the roof top parking and park on P4 or P5 Rooftop.
The original parkade entrance (Cambie & 42nd) is open. The entrance at Cambie and 45th is no longer available.
Please note, the current roadwork is impacting the Cambie and 41st intersection. Both vehicle traffic and pedestrian traffic are being re-directed by traffic control individuals.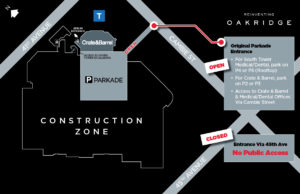 For the latest updates, please visit: https://www.oakridgecentre.com/blog/category/reinventing-oakridge/