COVID-19 Notice
With the current global COVID-19 pandemic, our clinic is CLOSED starting Friday March 20th until further notice. 
If you require immediate assistance, please send your inquiry to [email protected]. 
*Note: During the closure, our existing clients can still purchase batteries or other assorted hearing aid supplies, which can be mailed out with no shipping charge. Please send requests to [email protected]. 
We are doing everything in our power to limit the effects of the virus on our local population. Thank you for your patience and cooperation. 
Proudly hosting
the 13th Annual
Tinnitus Research Initiative (TRI) Conference
at Marriott Pinnacle Downtown, Vancouver
May 20 – 23, 2020


CANCELLED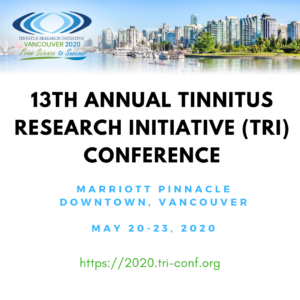 For more information: https://2020.tri-conf.org/
Due to the Oakridge redevelopment plans, please take a moment to review their Redevelopment Updates page for the most current changes in mall access and parking.  
We listen…you hear
Our goal at Sound id·EARS Hearing and Speech Clinic and the Vancouver Tinnitus and Hyperacusis Clinic is to provide audiological services of the highest calibre to individuals who require assistance for conditions related to hearing impairment, tinnitus, hyperacusis and listening disorders. With knowledgeable staff who are thoroughly trained in the latest clinical advances, together with state-of-the-art equipment, our patients can be comfortably assured that they are receiving the best treatment available. Our clinic also remains on the cutting edge by doing clinical research with scientific presentations and publications in the field.
Since the inception of Sound id·EARS Hearing & Listening Clinic in 1996 and the Vancouver Tinnitus and Hyperacusis Clinic in 1999, we take pride in our growing reputation as a clinic of excellence. We are one of a few Canadian clinics to provide such a complete range of diagnostic and treatment services. Individuals often experience a combination of audiological symptoms rather than just one symptom, and it is essential to obtain a complete, broad-based diagnosis in order to design an optimally effective intervention plan. Unique personalities, family dynamics, listening and hearing demands, occupational and lifestyle preferences must all be incorporated to develop an individually-designed, comprehensive rehabilitation program best suited to each of our clients. In doing so, we consider ourselves much more than just a hearing aid dispensing clinic.
We are one of the few Canadian clinics to offer a complete range of audiological diagnostic and treatment services to individuals of all ages.