OAKRIDGE CONSTRUCTION UPDATE
Due to on-going construction at the mall, please allow more time for travel and parking before your appointment.

ENTERING: Travelling Northbound on Cambie and turning left on 45th may improve your travel time; however, delays are still expected.
Entrance #3 and #5 (45th Ave.) are OPEN.
EXITING: Exit down the parkade to Entrance #3 to travel southbound on Cambie OR via rooftop to Entrance #5 (45th Ave.).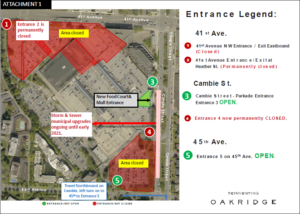 A portion of the mall is permanently closed. Crate & Barrel and South Tower Medical and Dental offices are still accessible from the Canada Line or the South Parkade. However, to access the Food Court or the West portion of the mall, customers must enter through the sidewalk on Cambie St.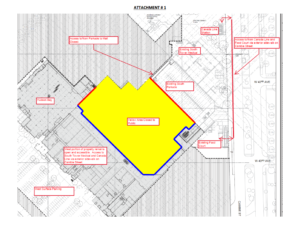 For the most current updates, visit:
https://www.oakridgecentre.com/blog/getting-around/
---
WE ARE OPEN!
We are excited to welcome all our clients back! Currently, we have reduced office hours and minimized in-person services to by-appointment only. We have also implemented various safety measures including physical distancing, frequent sanitizing practices, as well as plexi-glass barriers to prevent the spread of coronavirus. Wearing a mask is mandatory for everyone entering the clinic, as we are unable to maintain physical distance requirements as we work on your ears.  Our offices are open:
MONDAY TO FRIDAY: 9AM – 3PM
If you do not have an appointment, please call the office first before dropping in. Thank you for your understanding.
For more information about our COVID-19 Policy, click here. For emergency help, repairs, supplies and remote services, please email [email protected].
Take care,
Carol and the Sound idEARS Team.
*Note: Our existing clients can still purchase batteries or other assorted hearing aid supplies, which can be mailed out with no shipping charge. Please place your orders through the new "Client Supply Ordering" site menu
---
We listen…you hear
Our goal at Sound id·EARS Hearing and Speech Clinic and the Vancouver Tinnitus and Hyperacusis Clinic is to provide audiological services of the highest calibre to individuals who require assistance for conditions related to hearing impairment, tinnitus, hyperacusis and listening disorders. With knowledgeable staff who are thoroughly trained in the latest clinical advances, together with state-of-the-art equipment, our patients can be comfortably assured that they are receiving the best treatment available. Our clinic also remains on the cutting edge by doing clinical research with scientific presentations and publications in the field.
Since the inception of Sound id·EARS Hearing & Listening Clinic in 1996 and the Vancouver Tinnitus and Hyperacusis Clinic in 1999, we take pride in our growing reputation as a clinic of excellence. We are one of a few Canadian clinics to provide such a complete range of diagnostic and treatment services. Individuals often experience a combination of audiological symptoms rather than just one symptom, and it is essential to obtain a complete, broad-based diagnosis in order to design an optimally effective intervention plan. Unique personalities, family dynamics, listening and hearing demands, occupational and lifestyle preferences must all be incorporated to develop an individually-designed, comprehensive rehabilitation program best suited to each of our clients. In doing so, we consider ourselves much more than just a hearing aid dispensing clinic.
We are one of the few Canadian clinics to offer a complete range of audiological diagnostic and treatment services to individuals of all ages.